Many providers (especially those who don't understand the complexities of B2B eCommerce) look at you blankly when you mention the need to support your Enterprise customers who require OCI PunchOut or cXML.
So... why the blank faces?
Well, PunchOut is one of those topics that requires a deep understanding of both the Buy-side (procure to pay) and the Sell-side (order to cash) processes between organisations.

The definition of PunchOut and cXML is as follows:
"PunchOut is a protocol for interactive sessions managed across the Internet, a communication from one application to another, achieved through a dialog of real-time, synchronous cXML messages, which support user interaction at a remote site. This protocol is most commonly used today in the form of Procurement PunchOut, which specifically supports interactions between a procurement application and a supplier's eCommerce web site." (Wikipedia)

Okay, so what does PunchOut actually look like in practice?


In business terms, the process would go something like this:
Your customer, a large enterprise, health or government agency, who probably is running an ERP system (such as SAP or Oracle) have a requirement to procure goods without leaving their own procurement/supplier relationship management system. They will not open a browser and visit your eCommerce website.


So you use your eCommerce platform to create a custom catalogue of the goods they've contracted to buy from you. This catalogue is accessible from within their own system and features all the rich product content, pricing and business logic that supports your doing business with them.


Your customer "punches out" securely to your eCommerce website from within their own procurement system, and builds a cart of goods.


On completion of their cart, your customer exits your catalogue and roundtrips back through their procurement system (rather than to your checkout).


This basket of goods - with the all the correct product codes, prices and business logic - completes the process by following your customer's internal buyer processes. This may include approvals and other requirements.


Ultimately, the customer sends you the order. This could come via EDI, or might take the form of an emailed PDF (which you could send through an automated order processing application).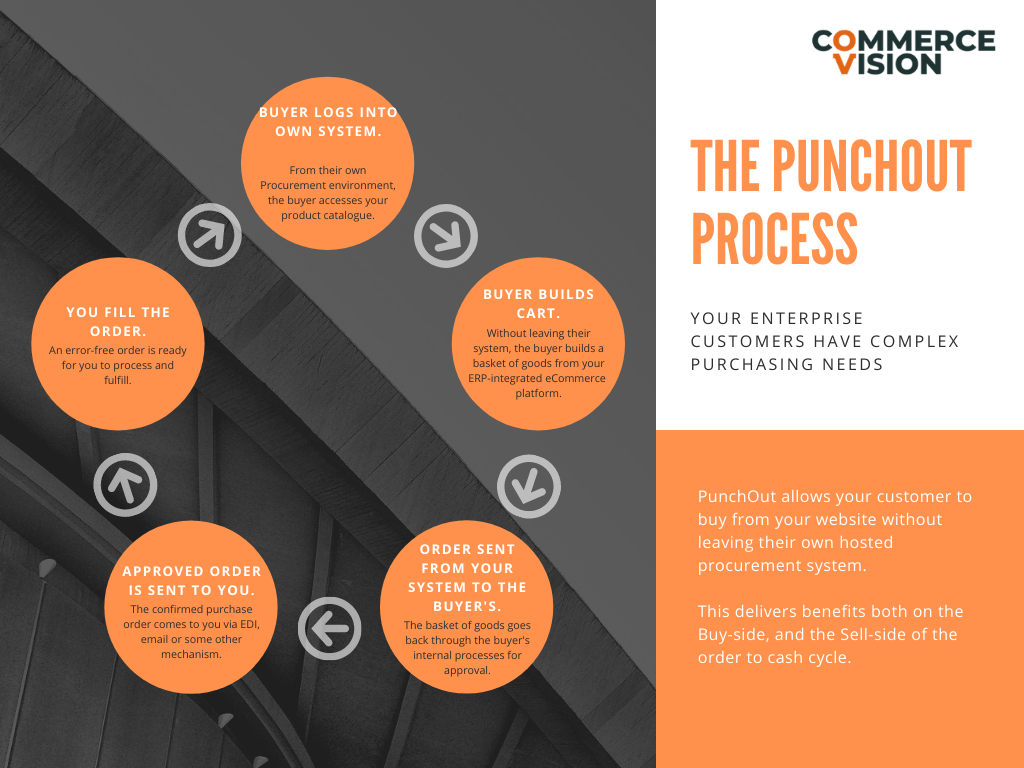 Why offer PunchOut?


Benefits for your customer
The big benefit for the buying organisation is that they maintain internal processing control and create the demand (i.e. Purchase Order) in their own system. They can restrict their buyers to items that are on contract with their preferred supplier, and order at the correct price, ensuring budget and spend compliance.
Benefits for you
As the supplier, PunchOut means you will always get an order containing the correct data - product codes and pricing - ready for you to fulfill.
Everyone wins
But perhaps most importantly, in many cases by offering this sophisticated functionality, you're creating a very strong bond between your customer and your company, all whilst reducing cost-to-serve on both sides.
---

Further reading
If you'd like to learn more, why not check out these blog articles?