How to ask your customers what they want without asking them
Recently I was speaking to a customer who had some usability questions around a particular section on their website. They didn't yet have a detailed understanding of what exactly wasn't working, they just knew it could be better. I'm sure many of us have ended up in a similar situation.
You know something about that thing needs to change, but you don't know What exactly.
There are a number of ways you can drill down to find your What. You can run experiments and change individual elements, you can do surveys of customers, you can data mine from various analytics sources.
What if your customers were already telling you their What, and you just couldn't hear them?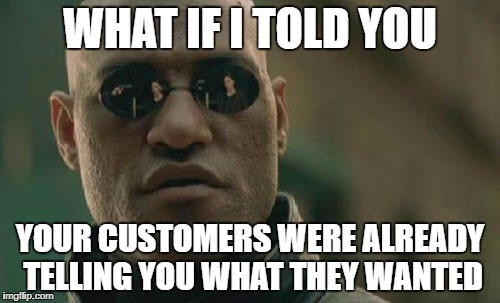 Last week I mentioned that every part of your business touches your customers in their own way. "Your sales team are the face of your company. Your marketing team are the voice. Your customer service staff are the ears." Sound familiar? It should. It should also sound like a potentially untapped goldmine.
Your customers will often tell you what they love and hate about your business. Whether that's your website, or your business processes, or your products, it's all your business. Which means you just have to "put your ear to the keyhole".
Alright Helen, what exactly are you trying to say?
Valid point, dear reader, I'll skip straight to the point: ask your staff what your customers are saying.
The customer I was speaking to recently had already set up the bones of this process. They had created an internal email address staff could email comments to when they received them. Whether you create an inbox, or have a survey form staff can pop comments into, or even a Slack channel, the method isn't as important (provided it works for you) as the collection. So long as you're collecting the comments you have the building blocks of your What.
Now I'm not going to lie to you, there will still be a bit of slogging through comments to find your actionable information. Unfortunately, I think there will always be an element of data mining when you're trying to do optimisation. BUT you'll now have your customer's What, not your What.
It's likely you'll end up with a whole list of them, actually. Try not to feel overwhelmed if you end up with an exhausting list of "nice to haves". This is where you start a triage process. Rank the suggestions by both their effort and value. A great diagram that David (our Friendly Neighbourhood Sales and Marketing Director) uses is below: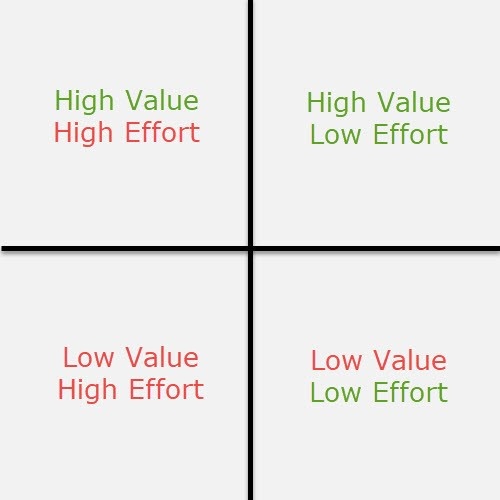 To start with, cherry pick the pieces that fit into the top right square. Then you can segment these to work out what will have the biggest overall customer impact to determine your starting point. It's important to combine your customer's wants with the business's ideal, which is why using a triage process like the above is helpful.
Be sure to consider the effort not just in terms of dollars, but also in terms of process changes required (if any), collateral that you may need to create to support the change, as well as ongoing maintenance etc.
Once you know what those little diamonds in the rough are that take minimum time for maximum return don't be afraid to have a chat to me and see whether there's anything we can do to make things easier. I've spoken about automations before – this is a great way to service content to your customers without increasing the overhead for you and could be one of those low hanging fruits.
So what are your quick wins? Are they mostly in the online space, or in business process tweaks? I'd love to hear what keeps your customers up at night.
By: Helen Ross
30-Aug-2017 09:00:00