eCommerce ain't eCommerce
There was a famous series of Castrol GTX ads on television from 20 years ago that showed 1930's Chicago gangsters educating motorists that 'Oil's ain't oils' when it came to a car's performance…….and it struck me that the message is analogous to eCommerce.
That's right - eCommerce ain't eCommerce and choosing the right or wrong Platform will have a material impact on your business over the medium to long term... let me explain.
Back in the late 90's and 00's the early adopters of eCommerce were very happy that they could sell their products online. Allowing customers to be able to self serve on some basic functions like checking price, availability, and checking their account was ground-breaking. But the world has changed dramatically since those days.
Over the last 5 years your customers and potential customer are demanding a lot more. With up to 90% of product research and buying decisions being made before someone contacts you, you have limited chances to help your customers get the information they want before they go to another supplier.
The following illustration shows some of the comments we hear when speaking to business leaders;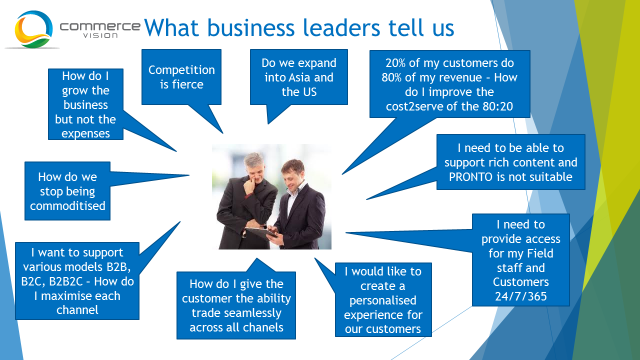 Based on what business leaders have told us we have focussed our development on a few key principles. These are;
eCommerce is more than ERP – eCommerce is not just another module to add to your PRONTO ERP. A highly adopted eCommerce solution is focussed on making it easy for your customers to do business with you – it has to be intuitive, personalised and offer intelligent search capabilities. When your customer support team are not directly involved in the transaction you need to be sure that your customers are being guided to the pages and products they are looking for.
Configuration of functionality is very important – We have met many companies who have chosen an eCommerce system because it did the job when they purchased it... They bought for then not for the future! The reality is that companies change and those who don't are at risk of going out of business, so buy a system that does more than what you want today and can be configured to support your future needs.
Modular systems provide flexibility – Our systems become more modular over time because we realise our knowledge and skillset is best spent on making Integrated eCommerce solutions. Google have some of the best online reporting tools, so we integrate to them. Mailchimp offer amazing automated marketing tools, so we integrate to them. With our new integration to Zapier we now support integration to over 500 applications! We allow you to use the best tools in the world, rather than trying to duplicate bad versions of them.
Don't forget your Marketing team – In the last 2 years we have seen a growing importance of marketing in PRONTO ERP customers' businesses. Whilst the marketing team were focussed on print that is changing rapidly and typically the marketing team feel hamstrung by the constraints of an ERP system – remember they weren't designed for marketing. Your marketing team today are thinking about how they get your message across, and with all the noise in the business world today they need the best digital tools to make that happen.
Like the ad said... "oils ain't oils"... choose wisely.
Over the last 15 years, over 100 companies using PRONTO ERP have turned to Commerce Vision for integrated B2B and B2C eCommerce because when they have conducted a detailed and structured analysis of their requirements they have found that Commerce Vision is the best platform to support their requirements today and into the future.