Current Reality for B2B Wholesale Distribution
The global Distribution landscape is complex and in constant flux. Facing an increasing demand for locally sourced products, shorter lead times, tighter margins, and more sophisticated digitisation, wholesalers and distributors are embarking on strategic projects in greater numbers than ever before.
Commerce Vision is uniquely positioned to support wholesalers and distributors in achieving strategic goals, due to our extensive experience in the sector, as well as our unmatched B2B pedigree.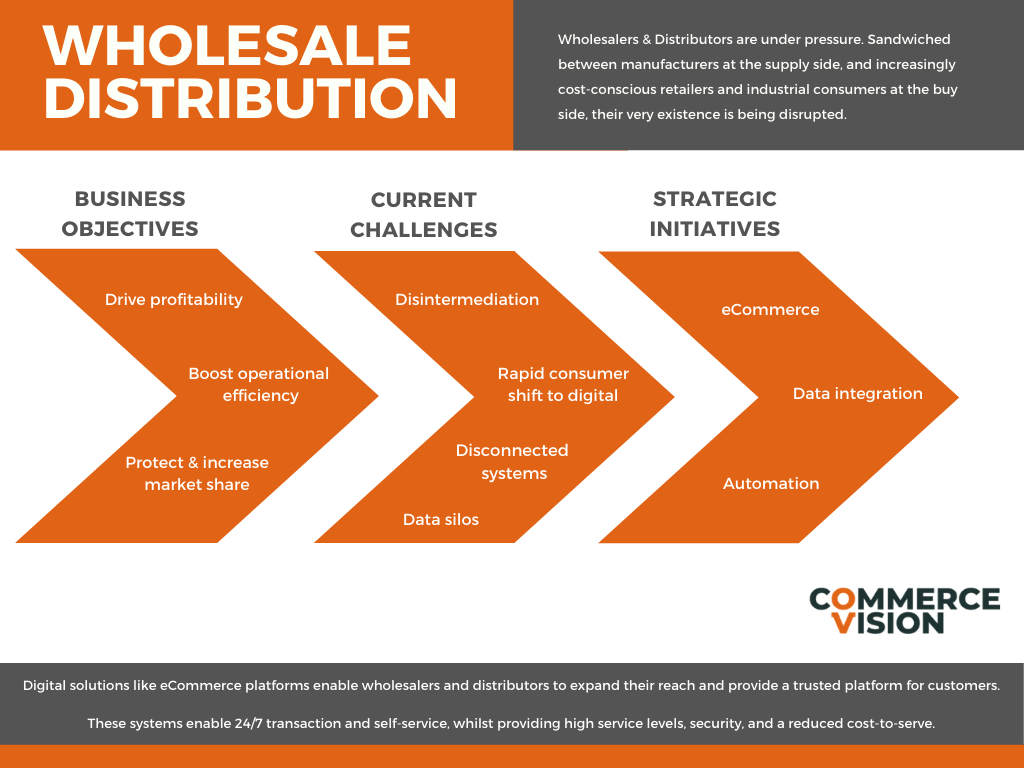 Why Commerce Vision?
We specialise in functionally rich, integrated eCommerce solutions designed especially for B2B.
70% of Commerce Vision customers are Wholesalers or Distributors.
Our eCommerce platform supports over $2bn in transactions every year.


Challenges & Solutions
We understand the major pain points Distributors face today; we're here to help you tackle them.
1. Disintermediation & Rapid Digitisation
Technology has been the great enabler of disintermediation. Disruptive retailers today contact manufacturers directly, bypassing the wholesaler and attempting to shorten the supply chain.
However, technology is also your solution to this problem.
As a wholesale distributor, you provide your customers value that a manufacturer can't or won't – using your logistical expertise to save the retailer time and money, as well as delivering service at a level above the manufacturer's focus.
By providing a personalised eCommerce experience - including rich product information such as size guides, safety data sheets, and descriptive images, across multiple manufacturers' ranges - you offer a range of content that a single manufacturer is unable to.
This, in addition to the ability for your customers to self-serve at any time in terms of invoice reprints, account payments, and reorder templates, sets you apart.
As competition across marketplaces intensifies, DIFOT principles become increasingly important. As margins tighten and order accuracy becomes paramount, your digital offering will allow you to display product availability (reducing backorders), offer differentiated shipping options, and take orders 24/7.
2. Operational Inefficiency
With so many moving parts in the Wholesale supply chain, inventory and data management can be complex. Silos are common and business processes may be disconnected.
Hence, an integrated eCommerce solution is critical. A truly integrated platform speaks to your ERP without you as the translator. Stock levels, pricing, and CRM information flows seamlessly in both directions.
Automation is another boon to productivity and efficiency. For those orders that are emailed to you as PDF, automated sales order applications – such as Lucy – divert the manual, time-consuming task of order entry away from customer-facing staff, who can be reallocated to engage in more value-adding work elsewhere. Solutions like Lucy are perfect where EDI may be too costly, and ensures order processing occurs around the clock and without errors.
Customer highlights
Henry Schein Halas, Australian (and global) leader in dental supplies, have grown their digital channels year on year with online revenue increasing by 800% since implementing Commerce Vision's eCommerce platform over 10 years ago. Read the Henry Schein story.
Industrial pump and tool wholesaler

White International

leverage a combination of Commerce Vision applications across their business. Our eCommerce, Mobile Sales and Lucy applications currently process over 60% of White International's total order value.
Since turning to Commerce Vision's eCommerce platform, BAT Industrial's phone traffic has plummeted as customers order online and self-serve for business interactions which used to require multiple phone calls. Sales staff now spend more time engaging with customers in value adding activities. Read the BAT story.
Wholesalers and Distributors turn to us as their eCommerce partner because of our:
Platform
Functionally rich and extremely flexible. In most cases our customers do not need to undertake expensive customisation as our solution can be configured to support your business and its processes. Since 2001, we've been incorporating our customers' requirements into the standard platform - meaning you can take advantage of nearly 20 years of our (and our customers') research and development. Need PunchOut capability? No problem. Complex freight requirements? We've got you covered.
People
Our team of 40+ is fully focussed on eCommerce and effectively supporting your business. We combine the latest technical skills with experience, business acumen and a deep understanding of manufacturing and distribution environments. In particular the whole supply chain – from demand through to fulfilment and self-service of customers.
Results
Companies turn to Commerce Vision because our platform and our people yield results. Our high level of customer satisfaction and retention is testament. Many of our customers have been with us for 15 years or more and we work closely with them to understand their business and help deliver exceptional outcomes in eCommerce - for both themselves and their customers. We invite you to speak with our customers to find out what it's like to work with us.