COVID Era Online Acceleration
There's been plenty of talk about eCommerce and the increase in online everything during COVID-19, and from where we sit here at Commerce Vision, we can attest to the impact this pandemic has had.

Looking at the data across our customer base (70% of whom are B2B) over the height of the COVID period (1 March -- 31 May), we've seen the effects our socially distanced world is having on eCommerce. There is a LOT more online business being done out there.

Certain industries (PPE, Sporting equipment, etc) have seen major upswings in business, while others (those supplying service industries like restaurants and pubs), have faced a sharp downturn.
Analytics data for that 3-month period shows that – on average - our customers were indeed much busier than the year prior:
Pageviews up 60%
User sessions up 68%
Number of users up 75%
User sessions resulting in transactions up 70%
Online revenue up more than 50% across our customer base


Looking Closer
Shifting from this mass of aggregate data down to a more granular industry level was more interesting. Without discussing particular customers in detail, it was interesting to see that the numbers backed up the anecdotes we were hearing:
Sporting goods sales went through the roof. We were all stuck at home, so we decided to jump online and order weights and skipping ropes. Similar story with bicycles and related leisure equipment – online sales skyrocketed!
Equestrian goods also saw a massive upswing. Was this because Australia suddenly decided to take up horse riding? We suspect it had more to do with the usability of websites that displayed lots of stock on hand (during a time when plenty of other retailers had supply issues).
PPE was a hot topic everywhere you went, and suppliers of these products did experience the increase you'd expect. However, it also dipped quite sharply in April, when stock dried up and people were no longer able to get their hands on sanitiser and masks.
This trend was repeated across the globe. A study of nearly 1,000 B2B executives and customers in Europe and the U.S. revealed that almost half of the businesses with an eCommerce solution were experiencing growth during COVID-19 (source).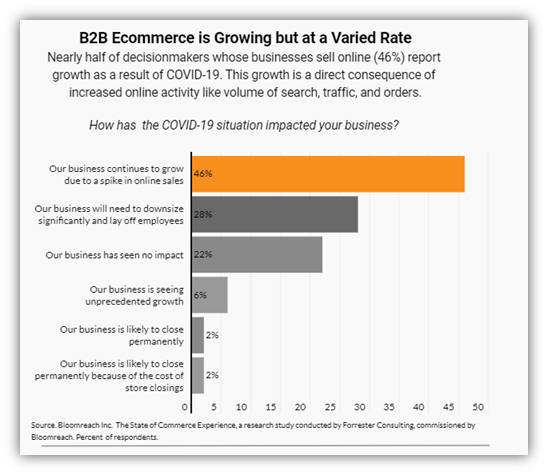 So What's the Lesson?
The one thing these businesses all had in common was that they went into COVID-19 with highly functional and flexible eCommerce solutions in place. This allowed them to pivot quickly and service their customers (new and returning) with a level of sophistication that not every business could offer once the world suddenly isolated and life took place wholly online. As circumstances rapidly changed, having a robust eCommerce platform allowed our customers to:
Display rich product content to a new swathe of product researchers and buyers
Display accurate stock levels when global order fulfillment was in question
Offer self-service functions such as invoice reprints & account payments
Take and fulfil orders around the clock
Once the upheaval hit, companies who'd already invested in systems supporting service, trust, and reliability were in an enviable position. They have been able to take advantage of increased demand, win over new customers, and weather the storm.

For some of our customers, online revenue for the first six months of 2020 is already approaching what they achieved in ALL of 2019.
Whilst we can't say this is only possible because of their foresight and investment in an integrated eCommerce solution, we can say that investing in the right eCommerce enables organisations to quickly react to market conditions -- good or bad.
Footnote: We'll be looking at how our customers are travelling in the weeks and months to come, along with what's happening across the globe . We hope to be able to share our insights with you.