Collier and Miller – Making it easier for the man on the land | Case Study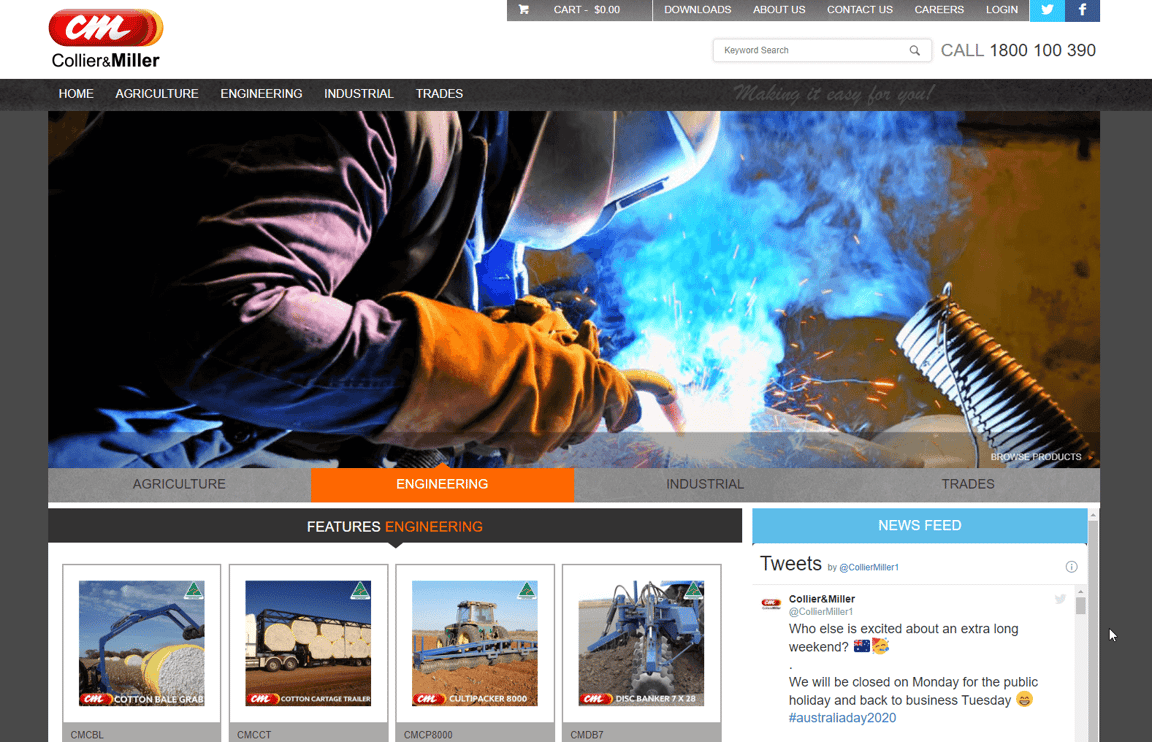 Business Requirement
Collier and Miller turned to Commerce Vision back in 2012 when they were considering the value of eCommerce in servicing their diverse customers. As a trusted name to agricultural, engineering, industrial, and trade customers Collier and Miller have been providing goods and services to farmers, business servicing farmers, and companies value adding to primary production in the Griffith region of NSW for over 70 years. They have a strong reputation to uphold and needed to ensure that any platform they chose would complement that.
Collier and Miller realised that to service their diverse business and increasingly tech savvy customers they needed a website. More specifically, an eCommerce platform that could provide rich product information to their customers to support and complement their bricks and mortar store and engineering facility.
With over 100 staff on a single site the solution needed to be intuitive for both their internal and external customers, while simultaneously encouraging progression towards a more self-service (and thus lower cost to serve) customer base.
Technology Solution
Customer Self service
The application and logic engine that powers our Best Practice Design. Customer Self Service's supports companies' complex business processes and rules so that our customers' can drive deep customer online engagement and self service. Our Web User Interface that combines an easy to use but powerful CMS, Responsive design editor plus other tools to future proof your B2B and B2C eCommerce system.
Outcome
Working with the capabilities within the Customer Self Service platform, Collier and Miller was able to develop a "Clicks and Mortar" strategy that encompassed both their online and offline presence into one streamlined flow. Web users and foot traffic have a consistent experience and this consistency adds value to an already well-known brand who now have customers who know that their experience is at the forefront of the Collier and Miller mind.
"We have been on a fantastic growth phase and have been so busy that we have struggled to keep up with our sales enquires and conversions since the launch of our website. It is amazing what we have achieved to date with the strategy that we have employed."
– Geoff O'Callaghan, Sales Administration Manager
By: Case Study
20-Sep-2018 11:38:00