Current Reality for Healthcare Supply

The healthcare industry is big business. With an ageing population here in Australia and global pandemics now a part of everyday reality, the distribution of medical and dental supplies is a competitive market and a sure growth industry.
Whilst facing many of the same issues as the Wholesale & Distribution sector as a whole, B2B Medical and Dental Supply distributors also face other challenges, such as:
Increased corporatisation - Mergers & acquisitions among healthcare providers is creating a corporate landscape where the big are getting bigger. This brings with it centralised group procurement, tougher SLAs, cost pressures and lower margins.


Complex ordering requirements - Large organisations use sophisticated ERP and procurement systems (SAP, Unimarket, etc.), driving demand for greater spend control, and complex, personalised processes. Both small and large organisations require sound inventory control and rely on suppliers to hold stock and deliver on time so they can to keep their practices running.


Changing workforce - The nature of engagement is evolving. As the millennial cohort begin to fill procurement roles, the systems and tools must be intuitive and suited to digital natives. The role of Sales Reps is also evolving, from being order takers into a more technical and advisory relationship with customers. Reps need an array of tools to support these activities.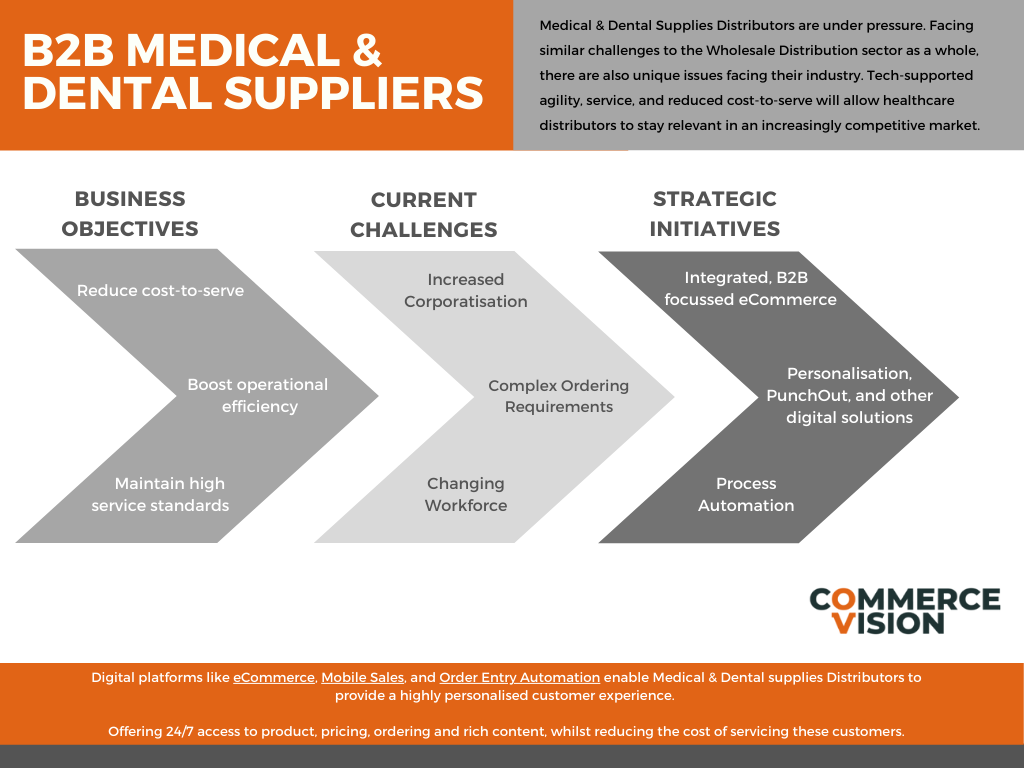 ---
Why Commerce Vision?
---
Challenges & Solutions
Commerce Vision have the solutions to help tackle the major pain points Healthcare supplies distributors face today.
1. Corporatisation


Problem: As smaller medical and dental practices get swallowed up by corporate healthcare organisations, procurement functions and contract management can become centralised, putting increased cost pressure on suppliers. Whether it via steep discounts, strict service level agreements, other other contractual obligations, increasing corporatisation means suppliers most often feel the squeeze.


Solution: Highly efficient processes, supported by powerful eCommerce tools, can reduce your cost-to-serve and protect margins in the face of volume discounts. Whether it's 24/7 self-service functionality to take pressure off call centre staff, or automated order processing to smooth out demand in the warehouse, the right digital solutions increase efficiency across the entire order-to-cash cycle.
2. Complex ordering requirements


Problem: Every customer is different, especially across the medical industry which comprises multiple disciplines (aged care, small practices, pathology, large hospitals). This adds another level of complexity for suppliers who must cater for sometimes competing priorities. Smaller, single-GP practices need certainty of supply and quick delivery to keep small storerooms stocked and the practice running. Around-the-clock service provision means they may be ordering at 10pm or 2am. Larger corporate operators also insist on strict cost control, volume discounts, contract SLA's and other complex ordering processes.


Solution: An eCommerce solution equipped with rich B2B functionality allows you to give your customers whatever they need, no matter who they are.
Custom catalogues
Order approvals
Inventory management
Personalised portals / custom skins
Contract pricing
Stock security
Complex freight options


3. Changing workforce


Problem: A generational changing of the guard is occurring (in all industries), as digital natives increasingly fill roles previously held by Baby Boomers and Gen X-ers. Manual processes and clunky, ineffective systems are no longer accepted as 'just the way we do things'. Similarly, as Reps evolve from being order takers out on the road into a more technical/advisory resource for your customers, they'll need the right tools to support them. Medical and dental supplies involve an additional level of governance that other industries don't face. You can't simply substitute a vaguely similar product for an out of stock item - the margin of error needs to be zero. Your Reps need deep product and technical knowledge, augmented with rich digital resources to allow them to deliver exceptional service.


Solution: To attract skilled workers now and in the future, process automation and other leading edge technology will become mandatory. Digital tools must be intuitive and easy to use, streamlining complex order processes and customer service tasks. An eCommerce platform rich in product information, technical content, and with superior search / compare capability allows both staff and customers to find the right medical or dental supplies for their application.
Medical and Dental distributors play a critical role in the overall provision of healthcare - the systems they rely on need to be 100% fit for purpose.
---
Customer Highlights
"The Commerce Vision platform is head and shoulders above the rest. We're probably only taking advantage of 30% of what the CV platform has to offer out of the box - we can't consume as quickly as you guys provide!"

- Sean Toms, CIO Henry Schein Halas

"Customer A might use our website in a completely different way to Customer B, but whether it's the single-practice GP or a corporate healthcare provider, [with the CV platform] I know they're getting a five-star experience - no matter who they are."

- Whitney Webb, Marketing Manager SSS Australia
---
Medical & Dental Supply Distributors turn to Commerce Vision for eCommerce because of our:
Platform
Functionally rich and extremely flexible. In most cases our customers do not need to undertake expensive customisation as our solution can be configured to support your business and its processes. Since 2001, we've been incorporating our customers' requirements into the standard platform - meaning you can take advantage of nearly 20 years of our (and our customers') research and development. Need PunchOut capability? No problem. Complex freight requirements? We've got you covered.


People
Our team of 50 is fully focussed on eCommerce and effectively supporting your business. We combine the latest technical skills with experience, business acumen and a deep understanding of manufacturing and distribution environments. In particular the whole supply chain – from demand through to fulfilment and self-service of customers.


Results
Companies turn to Commerce Vision because our platform and our people yield results. Our high level of customer satisfaction and retention is testament. Many of our customers have been with us for 15 years or more and we work closely with them to understand their business and help deliver exceptional outcomes in eCommerce - for both themselves and their customers. We invite you to speak with our customers to find out what it's like to work with us.