Current Foodservice Distribution Challenges
The global food industry is a complex network of markets, distribution channels, and customer segments. Food spans all areas of the supply chain as it moves from paddock to plate. With food at the heart of so many cultural experiences, Australia's diverse society has transformed food and dining out into a national pastime over the last 2 decades. But what's going on behind the scenes?
Whether enjoying brunch in Bondi, cocktails and canapes in Collins Street, burgers in Brisbane or being served catered meals in hospital or aged care settings... behind it all is the supply chain. A standing army of people, all working in Foodservice Distribution to get products to the businesses and organisations who prepare billions of meals per annum.

For decades, not much in the Australian foodservice landscape has changed. The big retailers like Coles, Woolworths, and independents serviced the retail market, and the Foodservice Distributors serviced the close to 100,000 businesses and institutions nationwide. But not anymore.
In the last 2 years this Distribution model status quo has been challenged with a new threat - 'Big Retail' acquisition of foodservice distribution.

If you are a Foodservice Distributor how will you meet this challenge?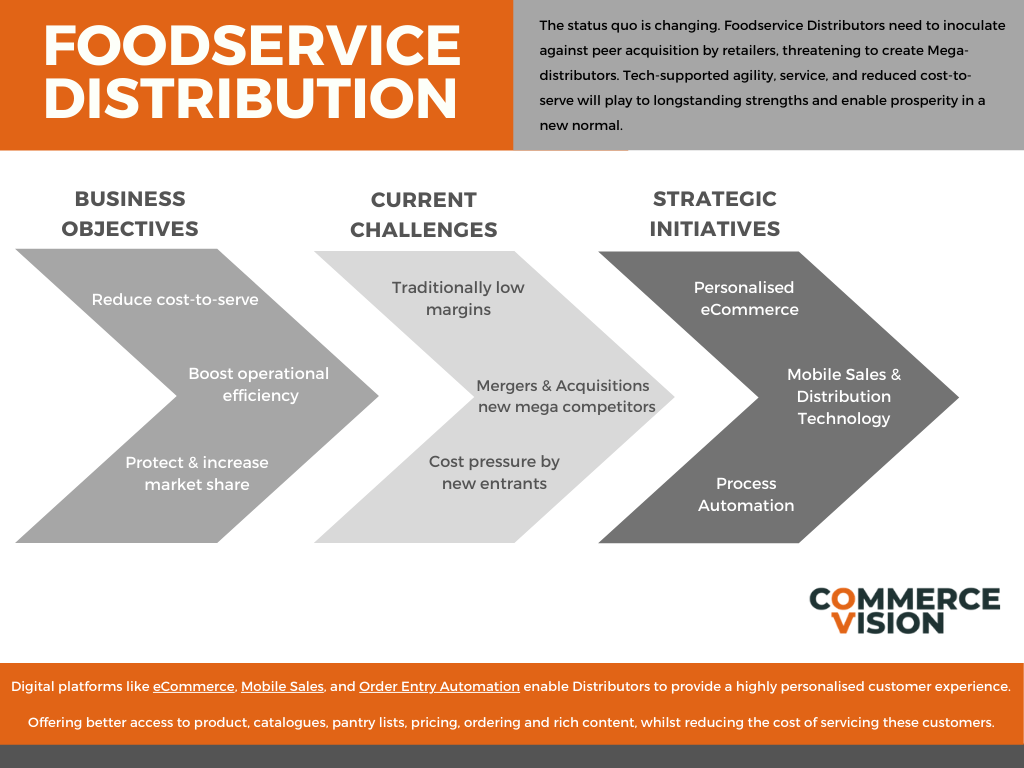 Commerce Vision is uniquely positioned to support Foodservice Distributors inoculating against this threat. Our digital technologies like eCommerce, Mobile Sales and Automation increase efficiency and productivity, whilst reducing cost to serve.
Why Commerce Vision?
We specialise in functionally rich, integrated eCommerce solutions designed especially for B2B.


70% of Commerce Vision customers are Wholesalers or Distributors - many in the Foodservice and Hospitality sector.


Our eCommerce platform supports over $2bn in transactions every year.




Challenges & Solutions
We understand the major pain points Foodservice Distributors face today; we're here to help you tackle them.
1. New Competitors - Mergers & Acquisitions
Big Retailers are the behemoths of B2C in the commercial and institutional Foodservice space, but as they move to B2B they will be potentially constrained by legacy systems. Foodservices have an opportunity to inoculate against retailers in a number of ways:
When you're up against an 800lb gorilla, you can't win in a direct attack. You have to use your size, cunning and agility to win.
2. Cost Pressure / Low Margins
The Foodservice Distribution market will absolutely be impacted by the types of M&A we are already seeing. Cost pressures will increase due to increased buying power of retail entrants, and/or the amalgamation of buying groups. So how do independents and other group members survive this margin squeeze?

The Foodservice market is highly competitive - a race to the bottom on price will lead nowhere. Whilst product cost is in most cases outside of the influence of technology, cost to serve is an area where even the smallest improvements go straight to the bottom line.

Your strategic advantage as David in this Goliath scenario comes down to how your business positions itself in the market. Removing product uniqueness from the equation, you can choose to focus on efficiency & cost reduction, or on responsiveness & service levels. But how do you do both?

To cut costs and drive efficiency, in today's environment the answer is nearly always automation. From procurement ➞ inventory control ➞ sales ➞ distribution, automating internal processes will drive your costs down. Of particular interest should be those processes which are non-differentiating for your business (think data entry).

To boost responsiveness and service levels, again automation is key, as is 24/7 self-service online functionality. Automating processes like purchase order processing, and allowing customers to order and enquire when it suits them, will keep you one step ahead of less agile competitors.
---
Customer Highlights
"Commerce Vision have helped increase our business' capacity through their extensive capabilities in the eCommerce space. Every step of expanding our eCommerce offering, Commerce Vision were able to provide new and innovative features that assisted our business in differentiating ourselves from our competition with a practical approach.

The team at Commerce Vision understand every aspect of our foodservice business needs and have created a user friendly platform to help grow our business."

- Craig Phillips, CEO Superior Food Services

"You sold us the dream, and now we're living it!"

- Allan Tunney, CFO Royal Foods on implementing Lucy for automated order processing.
---
Foodservice Distributors turn to us as their eCommerce partner because of our:
Platform
Functionally rich and extremely flexible. In most cases our customers do not need to undertake expensive customisation as our solution can be configured to support your business and its processes. Since 2001, we've been incorporating our customers' requirements into the standard platform - meaning you can take advantage of nearly 20 years of our (and our customers') research and development. Need PunchOut capability? No problem. Complex freight requirements? We've got you covered.


People
Our team of 50 is fully focussed on eCommerce and effectively supporting your business. We combine the latest technical skills with experience, business acumen and a deep understanding of manufacturing and distribution environments. In particular the whole supply chain – from demand through to fulfilment and self-service of customers.


Results
Companies turn to Commerce Vision because our platform and our people yield results. Our high level of customer satisfaction and retention is testament. Many of our customers have been with us for 15 years or more and we work closely with them to understand their business and help deliver exceptional outcomes in eCommerce - for both themselves and their customers. We invite you to speak with our customers to find out what it's like to work with us.